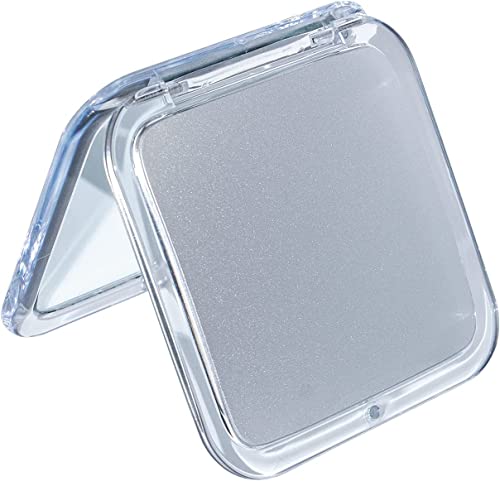 $14.99
$0.00
Small Compact 15X Magnifying Mirror for Travel - Handheld, Foldable & Very Lightweight - Mini Pocket-Sized Magnified Mirror for Purse - Square 3.3" x 3.3"
GREAT THINGS COME IN SMALL PACKAGES -This mirror may be small and compact but it comes with both a true view 1x mirror on the top side and a 15X magnification mirror on the bottom.

Ideal for your mid-day retouches or even for putting on your contacts, tweezing your eyebrows or removing blackheads. **Please note that due to the extreme magnification, you have to be at a fairly close distance when using or your reflection will appear upside down. This is normal and expected for any mirror with ultra-high magnification.

SMALL AND COMPACT – The mirror only weighs 3.4 ounces and measures 3.3 X 3.3 inches making it super travel friendly. It's easy and light to carry in your purse anywhere and everywhere.

EASY OPEN – We've designed it so that it opens easily and closes securely. The hinge is also designed to stay open while you are using the mirror.

1000-DAY RETURN/REFUND POLICY – We're Mirrorvana and we know mirrors. We are also serious about customer satisfaction. Your purchase is covered by our 1000-day policy. In the unlikely event, you feel that you're not 100% happy with your purchase, just let us know and we'll take care of everything for you.